BOARD BOOKS
Happy All-Idays:
By Cindy Jin, illustrated by Rob Sayegh Jr.
"We all celebrate the season in our own special way.
Let's look at how families prepare for each holiday."
With a double-page spread for each holiday, this inclusive book shows families enjoying Christmas, Chanukah, Kwanzaa, and Chrismukkah. Ending with Season's Greetings and Happy New Year, Happy All-Idays is a celebration for everyone.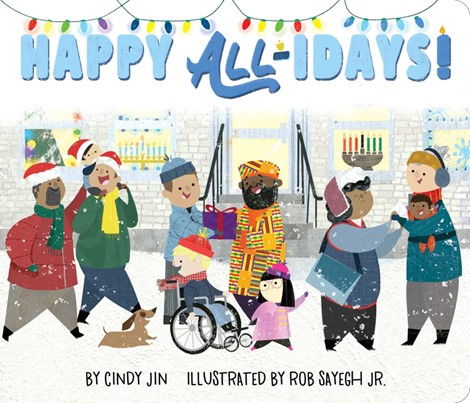 Merrytale:
A Christmas Adventure
By Christopher Franceschelli, illustrated by Allison Black
On Christmas Eve two brown children are invited on an enchanting adventure. They ride on a dog sled through the forest and across the ice to Santa's workshop, where they meet a diverse group of elves who are baking, making toys, singing, wrapping, and more. Children will love lifting the flaps, turning the shaped pages, and finding all the magical details in this fun book.
S is for Santa:
A Christmas Alphabet
By Greg Paprocki
From A is for Angel and B is for Baking, to Y is for Yummy and Z is for Zephyr (a toy train), this book is an alphabet of holiday fun. The illustrations have an old-timey feel, but are delightfully populated with people of every hue. A joyful depiction of Caroling, Ice Skating, Mistletoe, Volunteering, and more.
PICTURE BOOKS
The Christmas Book Flood
By Emily Kilgore, illustrated by Kitty Moss
This beautifully illustrated book is based on a real tradition in Iceland. Each year people give books as gifts on Christmas Eve, and the recipients spend the night reading. They snuggle under blankets, eat chocolate bars, and drink hot cocoa. The lovely art in this book depicts all kinds of people searching for just the right books for their loved ones, gifting them, and reading together. The wonderful tradition of Book Flood is starting to spread around the world. Reading this book together would be a great way to introduce it to your family and friends!
The Christmas Pine
By Julia Donaldson, illustrated by Victoria Sandoy
This lovely book also celebrates a wonderful tradition. Every year Norway sends a spectacular Christmas tree to England as a symbol of peace and friendship. Each year a poem is written to welcome the tree to London. The Christmas Pine is the poem that was written for the 202o tree. The touching text and illustrations show the tree's journey from the forest to the ocean to Trafalgar Square. There are happy diverse groups of people on both ends of the journey. A sweet book for family sharing around the Christmas tree.
The Hanukkah Hunt (Ruby Celebrates!)
By Laura Gehl, illustrated by Olga and Aleksey Ivanov
Avital is sad because her mom will be far away during Hanukkah. Cousin Ruby plans a treasure hunt to cheer Avital up. Each night of Hanukkah there is a rhyming clue, which leads to a fun surprise. The final clue leads to the best surprise of all – Mom is back in time to celebrate the last day of the holiday. This story of a loving multi-racial family is followed by an explanation of Hanukkah and directions for playing Dreidel.
NONFICTION
My Family Celebrates Kwanzaa
By Lisa Bullard, illustrated by Constanza Basaluzzo
Kevin and his mom get the table ready for Kwanzaa, and then the celebration begins. They light a candle each night, talk about the Seven Principles, and have a party. Readers will learn about Kwanzaa as they enjoy the holiday with Kevin and his family.
Kwanzaa, How to Celebrate it in Your Home
by Kathleen Minnick-Taylor, illustrated by Charles Taylor II
Kwanzaa is an African American cultural holiday that began in 1966. This book is an accessible and handy guide to celebrating the seven principles of the holiday. For those of us who attended camp in 2022, this is the guide we used to celebrate Kwanzaa at our dinner times.
Book Recommendations for Families Created in Transracial Adoption
Our Transracial Journeys families regularly seek out books to share with their children and to read for themselves, as white parents of black children. We are fortunate to have a resource in the Transracial Journey's Board of Direcors Secretary, Avril McInally. With a Master of Library Science from Kent State University and over 35 years as a public librarian, Avril and her colleague, Vicki Richards, collaborate to curate phenomenal book recommendations for our children and parents.   The Book Corner is a regular feature in our Transracial Journeys monthly newsletters. If you would like to receive monthly book recommendations via email, please subscribe.