A Child's Introduction to Hip-Hop:
The Beats, Rhymes, and Roots of a Musical Revolution
By Jordannah Elizabeth, illustrations by Marika Jenai
Ages 8-12+
Reviewed by TRJ Parent Kristen Perry
This year represents the 50th anniversary of the birth of hip-hop, and Jordannah Elizabeth's book celebrates the culture, artistry, and genius of Black musicians throughout history, beginning with the roots of African music and its influence on American music styles.
The book outlines the birth of hip-hop, different eras in the evolution of the music, and regional differences in style. Biographical profiles of important and influential artists, informative sidebar features and fact bubbles are featured throughout. In addition to discussing the profound impact of hip-hop on American music, the book also provides important context regarding other aspects of hip-hop culture, such as DJing, graffiti, break-dancing, and fashion. The author also briefly mentions some of the controversies surrounding certain artists or songs, such as misogynistic or violent lyrics, although she does not delve deeply into these issues.
Although the book is recommended for ages 8-12 (per Amazon), this book may be challenging for kids at the younger end of this range. The text can be dense and is filled with a great many details that might go above the heads of younger readers/listeners.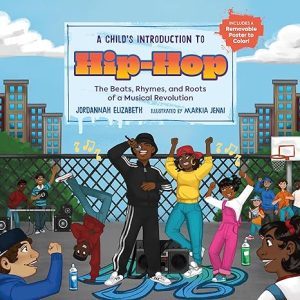 Book Recommendations for Families Created in Transracial Adoption
The Book Corner is a regular feature in our Transracial Journeys monthly newsletters. If you would like to receive monthly book recommendations via email, please subscribe.