Transracial Journeys revealed our first calendar, activity card deck and parent guide in the Family Care Package for our 2021 Family Camp. All families that attended camp have been using the activity cards each month as a step-by-step approach for initiating vital conversations around race, identity and adoption.  The cards and parent guide provide recommendations and parent tips to keep these vital conversations with our children flowing. January 2023 we will be launching the 2nd calendar and sending them to all donors of $100 or more. For reviews of our organization, the cards and our annual Family Camp, please read below.
Give a Gift. Get a Gift.
Calendar, Card Deck and Parent Guide Gift Set
Do you know a family that could benefit from guided conversations surrounding the issues transracial adoption can stimulate?  This set makes a great gift! The deck of activity cards is split into three topics for each month. Each card is designed for the children to ask their parents questions that will foster an environment of love, curiosity and inclusivity while exploring feelings that can come up for each topic.  
Parents also take advantage of our online parent meet-ups each month, where they share how the cards are working for their family and navigate through discussions together. When you make a gift to Transracial Journeys of $100 or more, you will get a gift of our calendar and activity card deck that you can use for your own family or give to someone else's. While supplies last.
See What Our Families Are Saying:
Helps Identify Issues We May Not Always See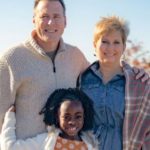 "I really enjoy these cards. It's a reminder every month to be cognizant of the challenges of having a family two different races. We can only see what we can see and these cards help identify issues we may not always see.  Each month gives a new topic to ponder and to discuss. It starts off giving some direction to the adults and then allows the children to take the lead in the subsequent cards for the month.  There's no reason they can't be used year after year. Awesome idea."
-Stephen, TRJ Dad
Important to Me and My Family
"I think I've been coming to Transracial Journeys Family Camp for seven or eight years. I always look forward to seeing everyone. It feels like family when we're all together. Camp is a lot of fun and it's important to me and my family!"
-NB, TRJ Camper and Camp Counselor
Tools and Ideas to Incorporate Right Away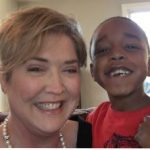 "My son was just 3 years old when we found Transracial Journeys Camp. I wasn't even sure what I needed to ask about or what I expected to get from the experience. Over the past 7 years Transracial Journeys has armed me with knowledge – how to care for his hair, how to advocate for his unique needs at school, how to seek out cultural experiences that will build his pride of his racial identity. We have been able to find a barber where I am the minority when we walk in but he is surrounded by men who look like him – it was because of TRJ camps support that I came to understand how important it is that I have the responsibility to help him develop the skills to navigate his future world.
I return home from camp every summer with tools and ideas to incorporate right away and, just as importantly, we make new deep and supportive friendships with others who are having similar experiences as a transracial family and understand our needs and issues. Transracial Journey camp is the high point of our summer. I cannot imagine how I could raise my son without the resources it has provided to me."
-Sheila, TRJ Mom
Shown Our Children They Are Not Alone
"Transracial Journeys has shown our children that there are other families that look like us—families with white parents & African American children. TJ has also shown our children that that they are not alone and that there are many other adopted children out there. TJ has also helped us as parents to understand our white privilege and some of the obstacles our children face as people of color. For all of these reasons and more, I feel that TJ has been transformative for our family."
-Sharon, TRJ Mom
"All of the Families Looked Like Us"
"I have been coming to Transracial Journeys Family Camp for five years now, and after my first year I made a commitment to myself and to my children that we would return every year as long we were able to make the trip. After our first camp experience, someone asked my son, ... 5 years old, what he liked most about camp. His reply was simply, "all of the families looked like us." That was enough for me to know it was worth it… Knowing there are others along this (sometimes) very difficult journey with me, who have the same hopes and dreams for our brown skinned children and worry as they navigate through the society we live in - will they be treated unfairly in the classroom? Is now the right time to start talking to my 10 year old son about what to do when one day he is pulled over by the police? How do I become my children's best advocate, as a daughter of white privilege, when I am often too afraid to find my own voice? At Transracial Journeys, I find "my people" who help me navigate this journey; I get to learn from professional transracial adoptees who are there to mentor us, without judging. My children are developing skills to ward off all of the well-meaning but overly nosy people who ask too many questions about their adoption stories, and are forming some very special friendships that may just last a lifetime."
-Annie, TRJ Mom
Enabled Me to See... Challenges We Face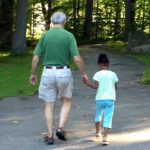 "I am grandfather to four children, two of whom are children of color. It is my hearts desire to support my daughter and son-in-law and their choice to create a transracial family. Sharing the experience of Transracial Journeys Family Camp with them has enabled me to see more deeply and clearly the social and personal challenges we face as an extended family in raising our African-American children. There are many. It is inspiring to meet others with similar mission and vision. I am 68 yrs old and fully enjoying my role as elder to our children. Uncovering my own privilege has been a part of this journey. I look forward to returning for my fourth Transracial Journeys-Family Camp."
-Grandpa Bob, TRJ Grandfather