The Transracial Journeys organization revealed our first calendar, activity card deck and parent guide in the Parent Box for 2021 Family Camp. All families that attended camp have been using the activity cards each month as a step-by-step approach for initiating conversations around race, identity and adoption.  Within the cards and parent guide are recommendations and parent tips to keep the conversations with children flowing.
Make a Gift. Get a Gift in Return.
Calendar, Card Deck and Parent Guide Gift Set
Do you know a family that could benefit from guided conversations surrounding the issues transracial adoption can stimulate?  This deck of activity cards is split into three topics for each month. Each card is designed for the children to ask their parents questions that will foster an environment of love, curiosity and inclusivity while exploring feelings that can come up for each topic.  Take advantage of our online parent meet-ups each month where parents discuss how these cards are working for their family as we share and navigate through discussions together.
When you make a gift to Transracial Journeys of $50 or more, you will get a gift of our first calendar and activity card deck that you can use for your own family or give to someone else's. While supplies last.
See What Our Parents Are Saying:
Helps Identify Issues We May Not Always See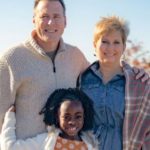 "I really enjoy these cards. It's a reminder every month to be cognizant of the challenges of having a family two different races. We can only see what we can see and these cards help identify issues we may not always see.  Each month gives a new topic to ponder and to discuss. It starts off giving some direction to the adults and then allows the children to take the lead in the subsequent cards for the month.  There's no reason they can't be used year after year. Awesome idea."
-Stephen Daray