In our April, 2021 Newsletter article entitled "What's in a Name?," We wrote about identity and the names our children carry. In this month's set of cards, April writes,
"When your child is adopted, there's another world, another narrative, and perhaps another name that accompanies them along with their "who am I?" journey. The way in which we build a strong and healthy identity often begins with our names as one of our central building blocks."
Finding Community
Identity development is a large part of a child's journey throughout adolescence and young adulthood. Finding community is also a large part of answering this "who am I?" question. For those of us who have been involved with Transracial Journeys for several years, we've had the privilege of witnessing our children and some of our camp counselors mature and enter young adulthood.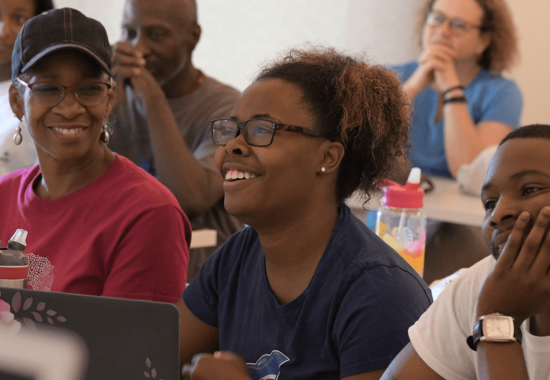 On The Board, we work to provide support to our families and children - that's a given! But, in the wings, we also work to nurture, train and support our camp counselors who themselves are often adopted persons and therefore older versions of our children. When you come to camp, you're not only supporting the healthy growth of your own family, but you're also supporting this community of your child's future peers.
For the past few years, we have been fostering the transition of our young campers into counselor-in-training and counselor roles at camp. We have been observing a "rite of passage" of sorts from camper to counselor. We've discovered one of the gifts of growing up in TRJ is this transition where a child leaves their family of experience and enters a new family of friends, advocates, and peers who share a lot of the same lived experiences. Finding your people and availing yourself of their support, friendship and wisdom is incredibly nurturing to the development of your sense of self and to your identity in being part of a group.
"Who Am I?"
The community building that's happening with our counselors, and their friendships forged is pretty amazing. Several of our counselors have been coming together now for years to work with our children, and in doing this work, they've also formed relationships with a community of peers who share intersectionalities of race and/or adoption. Finding a network of kindredness and support will help our children in their search to answer the question "who am I?".
We look forward to helping our young adults find support and reflection of themselves on their journey to adulthood and beyond. Who knows, perhaps your child will be a counselor someday too.
This post is from our April, 2022, newsletter. If you would like to get our newsletter in your inbox each month, as well as information about our annual Transracial Journeys Family Camp and our monthly Zoom call to provide support for our transracial adoption parents please subscribe.